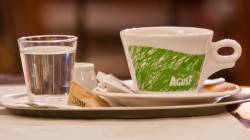 Coffee
Agusta company was founded in Brescia in 1956 as a small coffee factory. Throughout its scope is governed by the slogan: "the smallest roaster - the best coffee." Even though it has changed a lot of things, nothing's changed on passion, craftsmanship care and quality of coffee. Thanks to the professionalism and reliability Agust over recent years has grown to become one of the most important companies in the coffee industry.
Selection of raw coffee is in the end result very significant. For this reason, the purchase of raw materials continuously monitored through frequent trips to countries direct suppliers producing coffee proprietor himself Agusta Mr. Marc Corsinim. This makes imported only selected quality grains.
Raw samples were tested always before the purchase. Fifty years of experience and constant lab tests ensure the stability of mixtures. Traditional process of selecting and roasting, with technological equipment, is the only way to obtain the highest quality products. Roasted coffee often lacks uniformity and the same color, which may cause an unpleasant taste. That's why we use advanced electronic optical tender, which is controlled by the color and size of each coffee bean, and the grains are selected only with the "tonality"
26,00
Espresso
small, large
36,00
Vienna coffee
with cream
44,00
Algerian coffee
0,02 eggnog, whipped cream